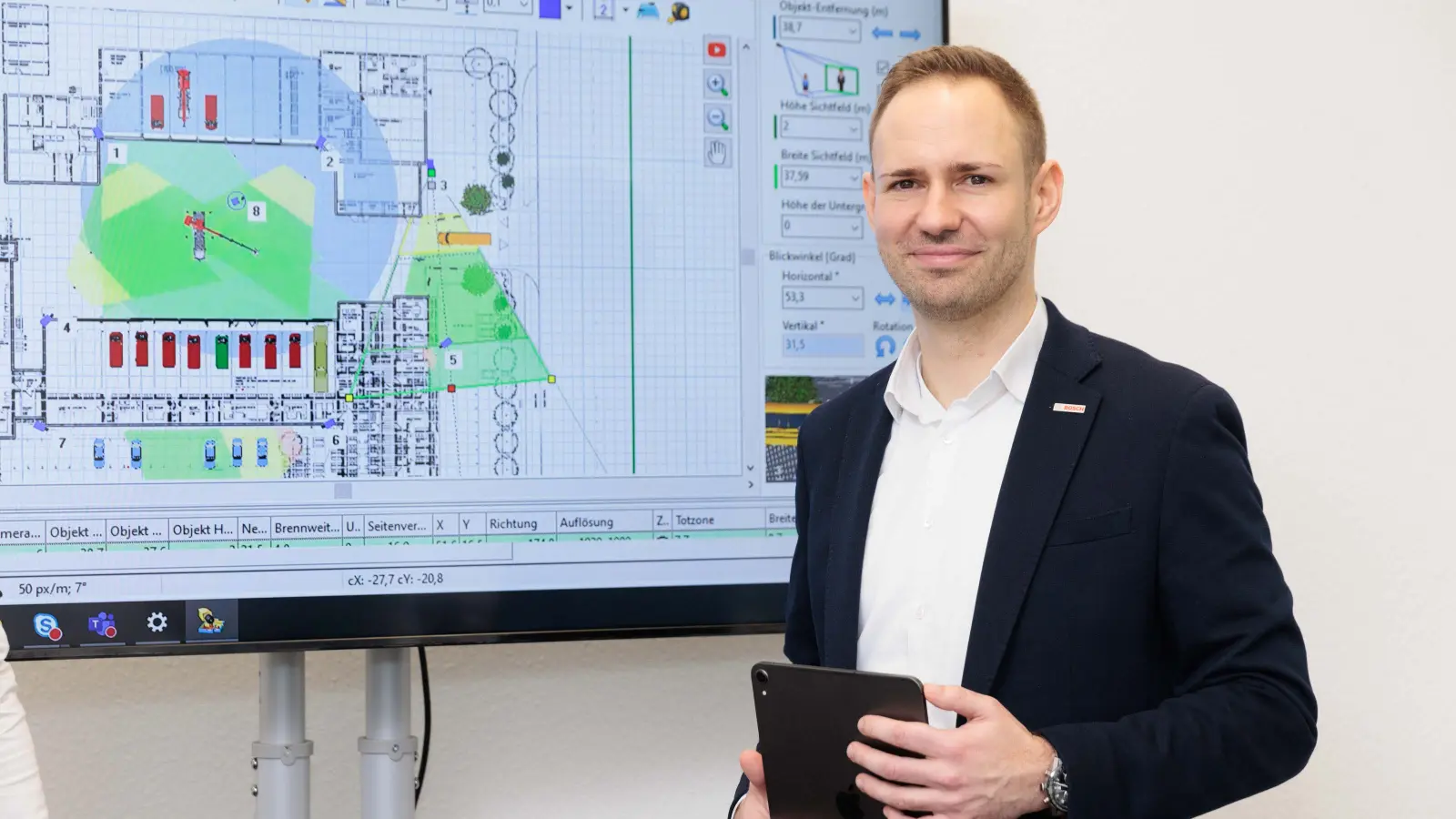 What, work only from his desk? Björn Kockrick couldn't imagine it. He yearns to go out and serve customers. This head of sales specialized in complex security solutions is convinced that the best ideas for customers arise while personally talking with them.
YouTube
Video cannot be shown without your consent
Full commitment to customers: Björn Kockrick on his day-to-day job as head of sales
From bank branches across motorway service areas to industrial parks: the demand for security solutions is growing
Some people are born to be salespeople, and this is how Björn Kockrick strikes you while talking with him. He loves his job. He talks eagerly about security technologies with his face beaming. More than anything, though, he's a good listener. Which is important, because Kockrick sells solutions that safeguard people and property. He's the Bosch Energy and Building Solutions head of sales responsible for the Düsseldorf/Cologne area and an expert on connected and integrated solutions.
His team is versed in enhancing the building security from office buildings to manufacturing facilities. This involves installing systems for access control, visitor management, video surveillance, and perimeter protection. "When customers see a risk, we show them a technical solution for managing it," says Kockrick. A case in point: at the Solingen-based company of Martor, which makes premium knives, he and his 18-member team were brought in during the construction of a new factory. "The customer wanted a comprehensive security solution that's easy to use," recounts Kockrick. "It was very important that they should only have to deal with a single provider." And now they're getting everything from Bosch, including service.
The best solutions arise while talking with customers
"Our strength is that we look further afield. Our customers should get the very best solutions possible, so our offering also includes technologies from allied companies. Our job is then to put everything together. For example, we plan and implement digital interfaces, and when there are other, preexisting systems we interconnect them," says Kockrick. What really gets his juices flowing, though, is creatively deploying Bosch's technological competencies to optimally meet customers' needs. This naturally includes explaining how Bosch works, namely with a strong in-house team and an external network. "Once a customer has realized what is technically possible, they often come up with entirely new ideas of their own. Like taking advantage of our solutions both to increase security and to improve processes."
This means investing time. "Communicating with customers is essential for me and my team. While talking we often identify additional aspects that can be integrated in our solutions. Martor, for example, was also looking for a time control system, so I showed them how our access control system could integrate that functionality," explains Kockrick. "I work with the customer not only to clarify what's important now, but also what will be needed going forward. In this particular case, it was about merging digital information and coordinating multiple aspects within the scope of a single project."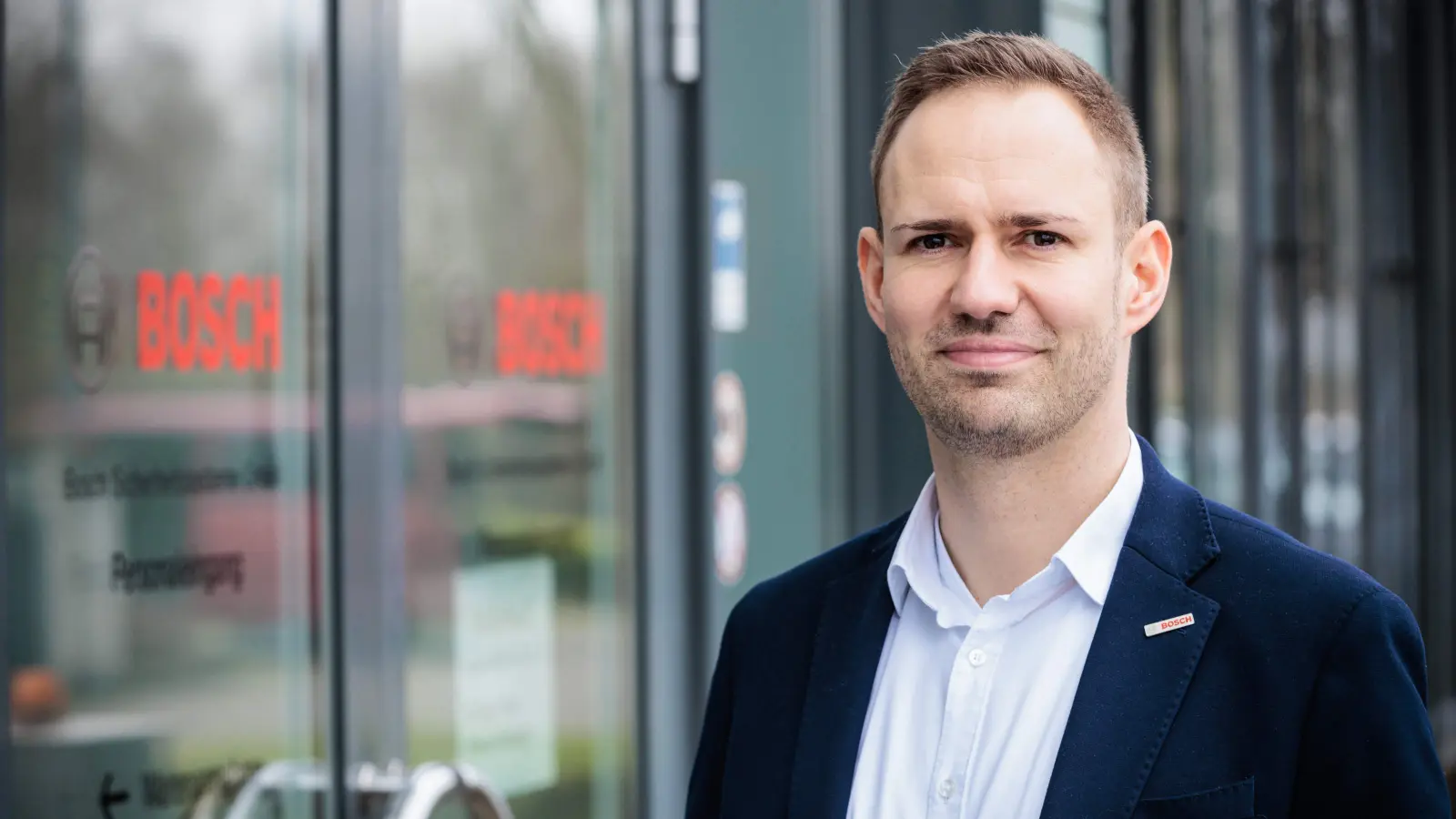 Letting the customer experience the benefits of digitalization
IoT and digitalization are giving rise to many new possibilities. Kockrick is intimately familiar with them and happy to explain how they work and implement the best solution in each case. He knows that not everyone he deals with is an IT expert, so he translates the technical jargon into ordinary language and illustrates it with practical examples. For the same reason, Kockrick also integrates artificial intelligence into applications. Like monitoring parking lots with video cameras that can detect how many vehicles are present and which slots are still available. "Keeping up with technology is one thing. The other is integrating it into solutions – that's the real art." Kockrick regards Bosch Energy and Building Solutions as an innovation driver. He and his team thoroughly explore the possibilities of new technologies. They know what devices and programs are capable of and when and how it makes sense to use them. "When a new camera becomes available, we immediately put on our thinking caps to figure out how we can take advantage of it to add value for our customers."
Many years of experience – and full of steam both on and off the job
At the age of 16, Björn Kockrick left his home in the eastern German state of Saxony-Anhalt to learn the profession of systems informatics technician in Düsseldorf near the Rhine River. "My training lasted three and a half years, but the part I liked most was the year spent in sales," he recalls. Then came his military service followed by a year working with video and intrusion detection systems. "I really enjoyed talking with customers and searching for the ideal solutions to problems." Kockrick lectured on building security, acted as a system consultant in the field of security technology and then spent eight years as a planner specialized in video surveillance technologies. "Today I benefit greatly from having personally installed our products and spent eight years as a sales planner," he says.
Kockrick is also an amateur athlete – although that may not be exactly the right expression. Because whatever he does, he does it with total devotion. In addition to being a passionate cyclist, he has been active since childhood as a Red Cross lifeguard and serves as an air rescue specialist for eight years. During the floods in parts of western Germany in the summer of 2021, he and his eight-member rescue team passed an extreme test of their abilities with flying colors, fishing people out of the surging floodwaters in the town of Bad Münstereifel. "This taught me that the time spent training and practicing pays off when the going gets rough." Kockrick's perseverance and dedication characterize his private life and career, for both of which he consistently gives his all.