NEXOSPACE: Digital services for building management
To achieve great things, you have to look beyond the horizon. With NEXOSPACE, the future holds a completely new reality for digital facility management. Our suite of intelligent, connected and integrated services can help you to digitally transform your building.
Building – a new reality.
Discover NEXOSPACE.
As of now, you will find the entire cosmos of building management services in one digital place. NEXOSPACE is your digital partner, helping you navigate buildings into the digital age. It does so with unrivalled ease. You gain full insight into all building data and experience how this increases the value and attractiveness of your building.
Are you ready for take-off?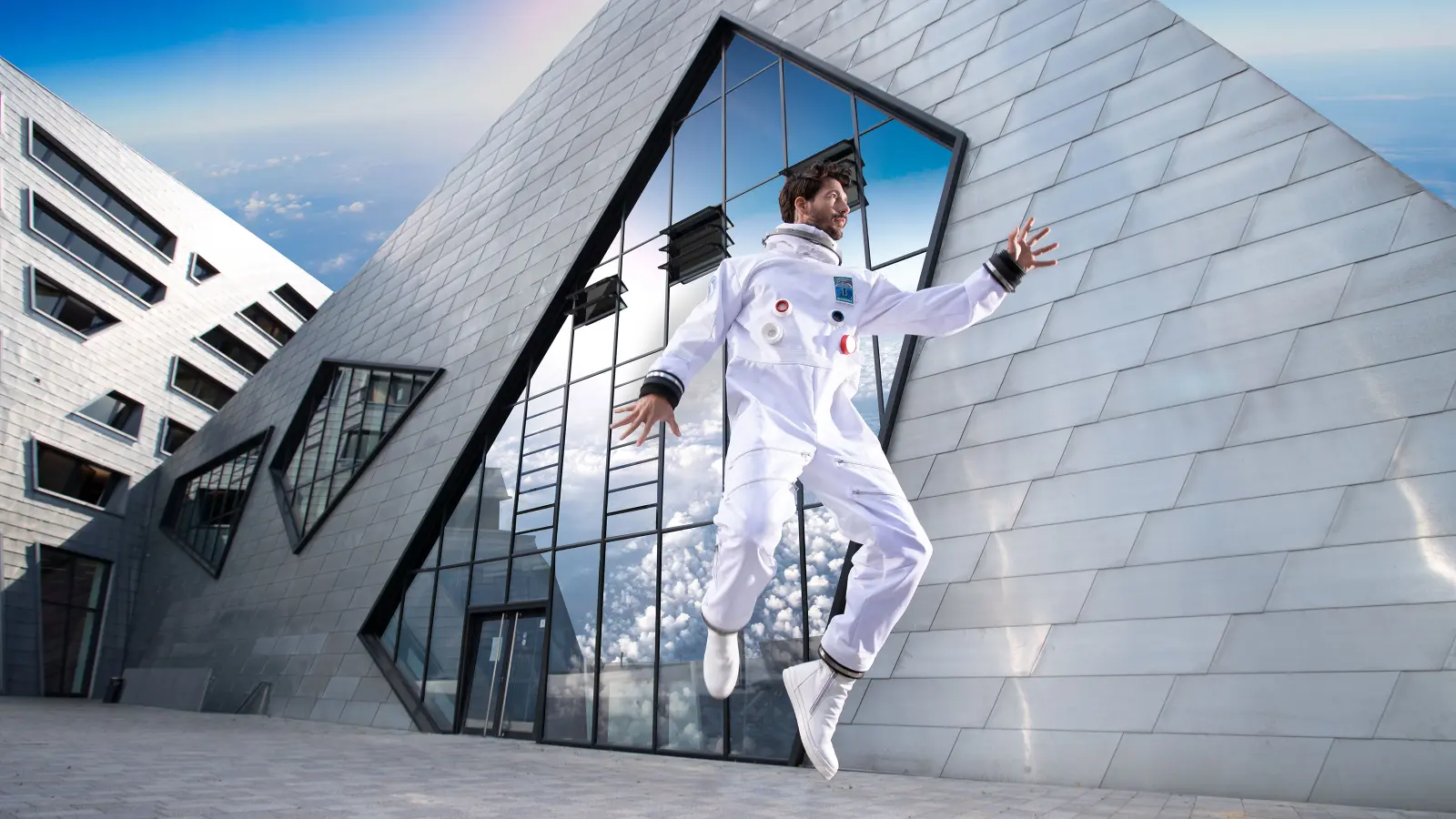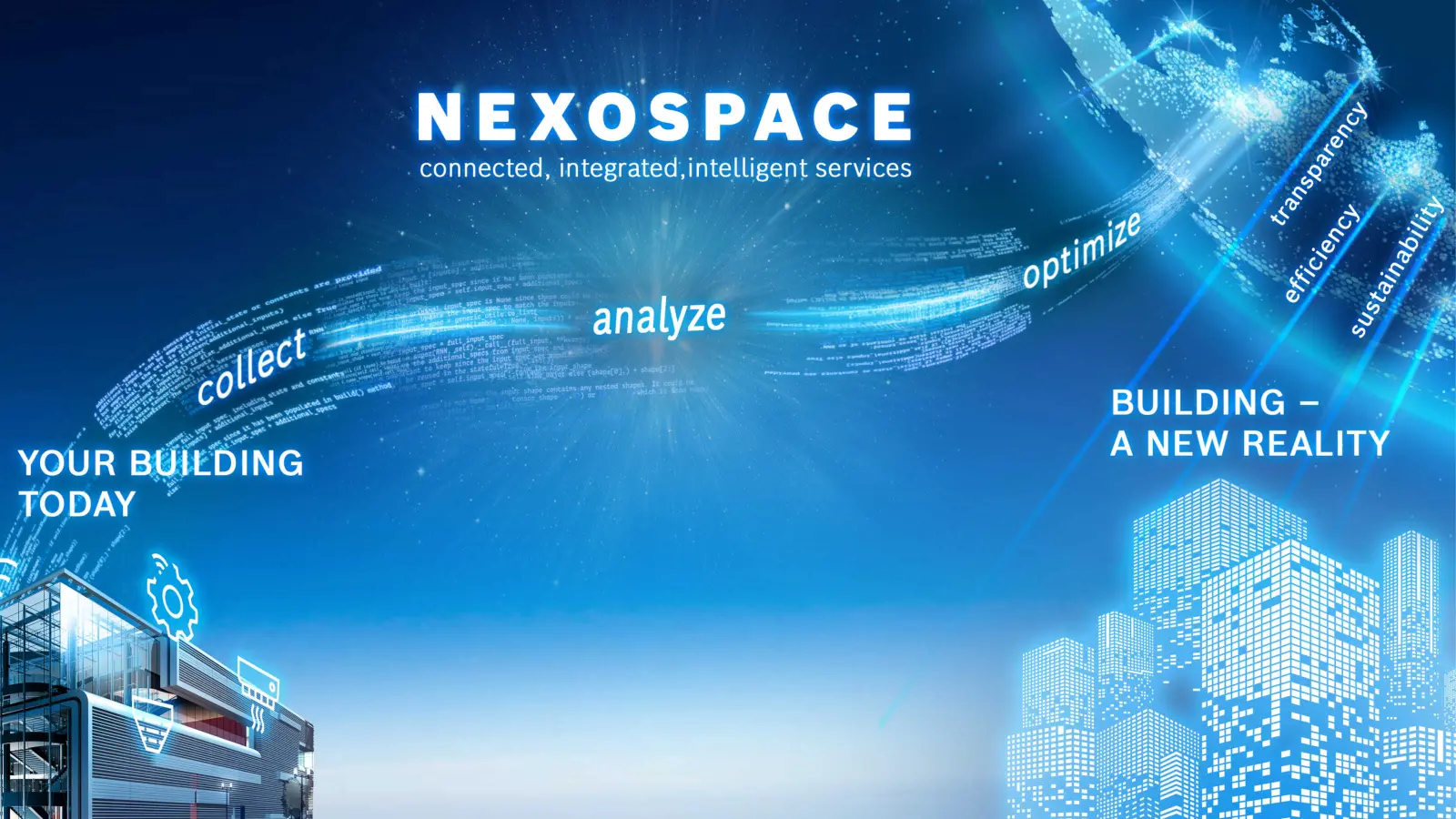 What makes NEXOSPACE so unique?
NEXOSPACE orchestrates the optimal interaction of your building's technical equipment in real time. Data from the various building service systems are brought together and analyzed. When used in combination with a digital twin, this creates a completely new, holistic view of the building. Comprehensive building information provides a reliable basis for decision-making in your day-to-day business.
NEXOSPACE gives you and your building the right tools for a digital future.
Learn more about intelligent buildings
YouTube
Video cannot be shown without your consent
Watch the presentation of NEXOSPACE at Bosch ConnectedWorld 2022 by Andreas Mauer, CTO and Chief Architect Building Technologies: "Digital foundations for a connected, integrated, and intelligent building"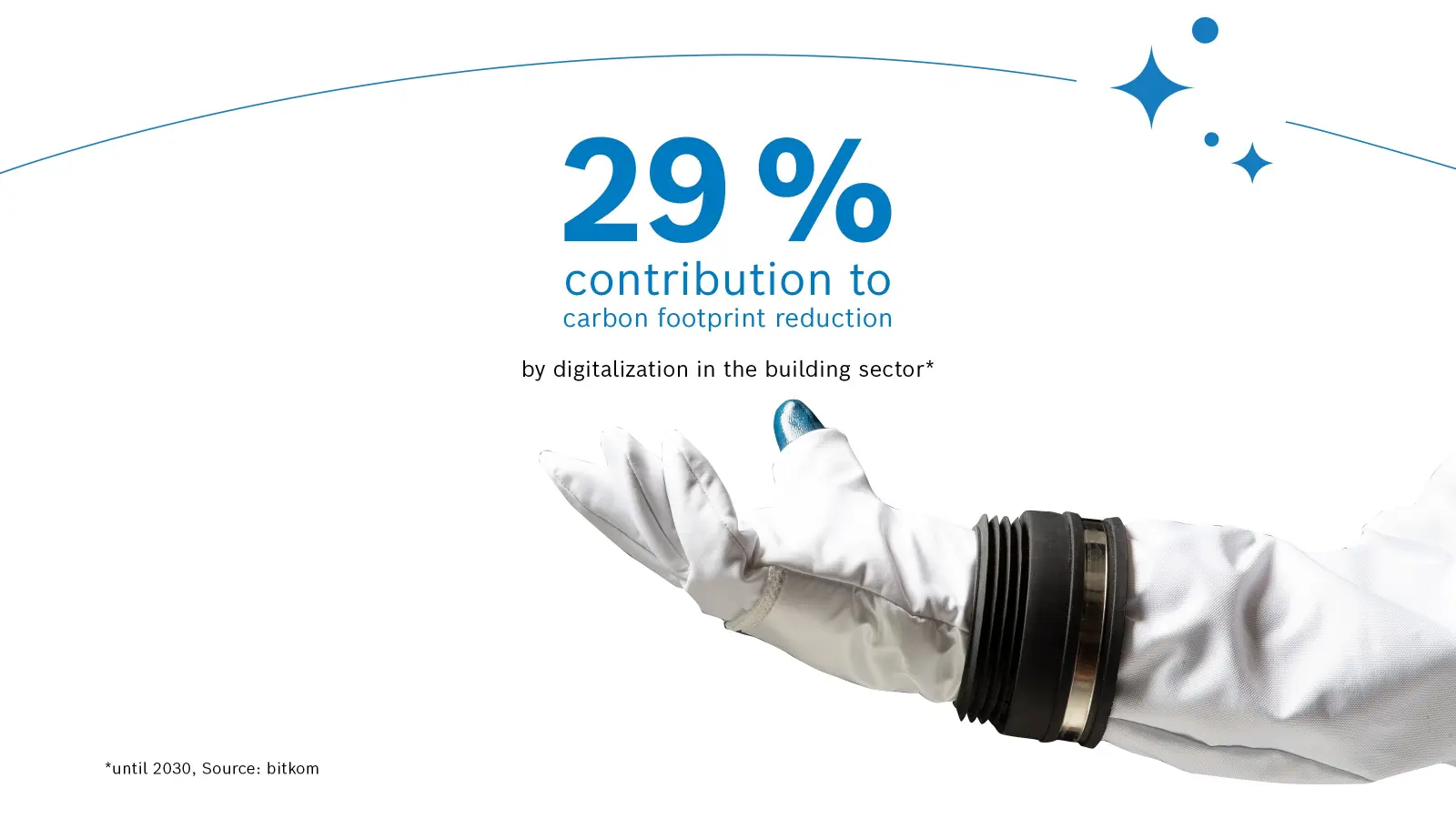 How NEXOSPACE works
Connectivity is the first step on the path to optimization. NEXOSPACE gathers data from all parts and technical equipment in your building and transforms this into valuable information needed for optimization.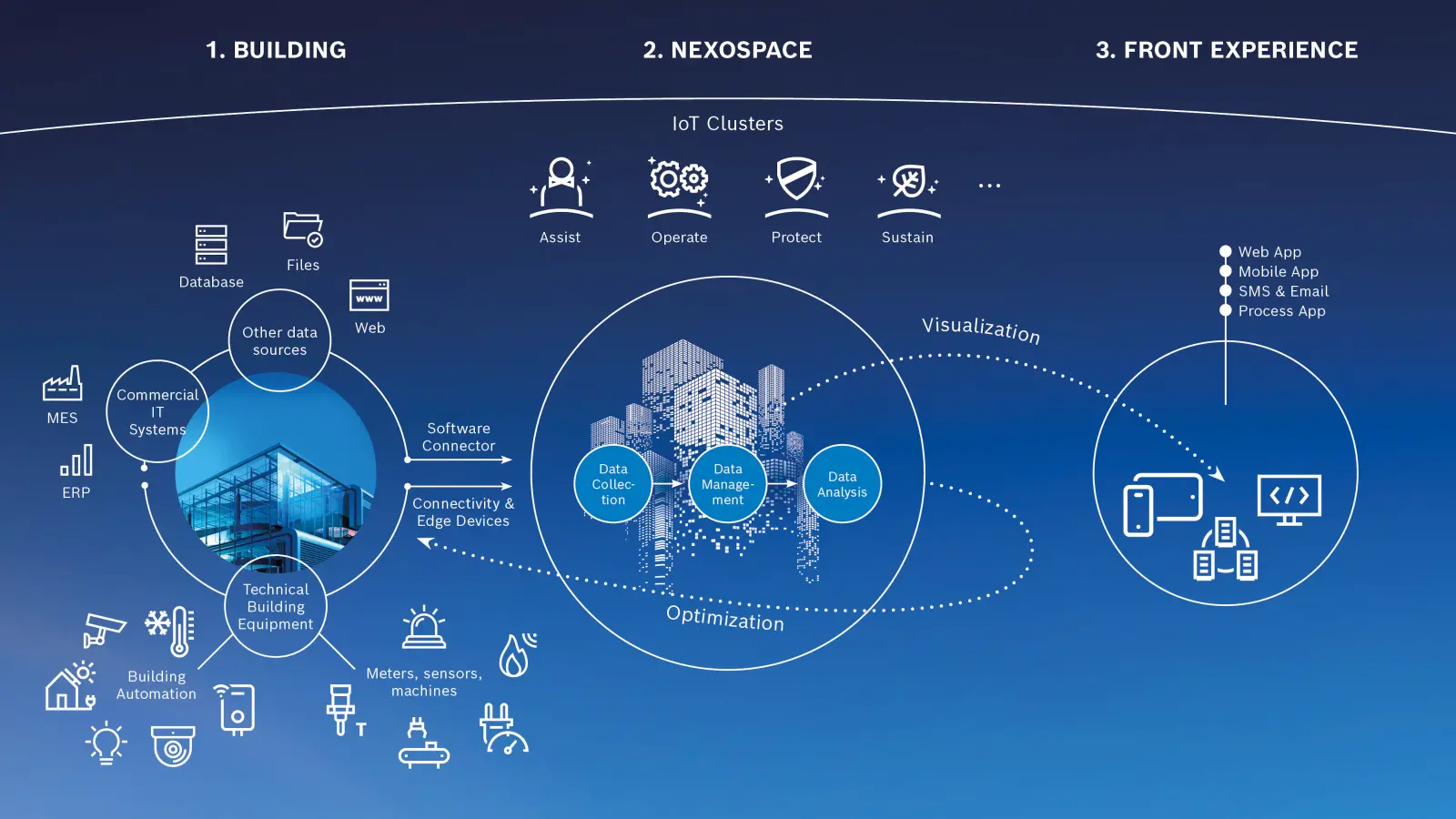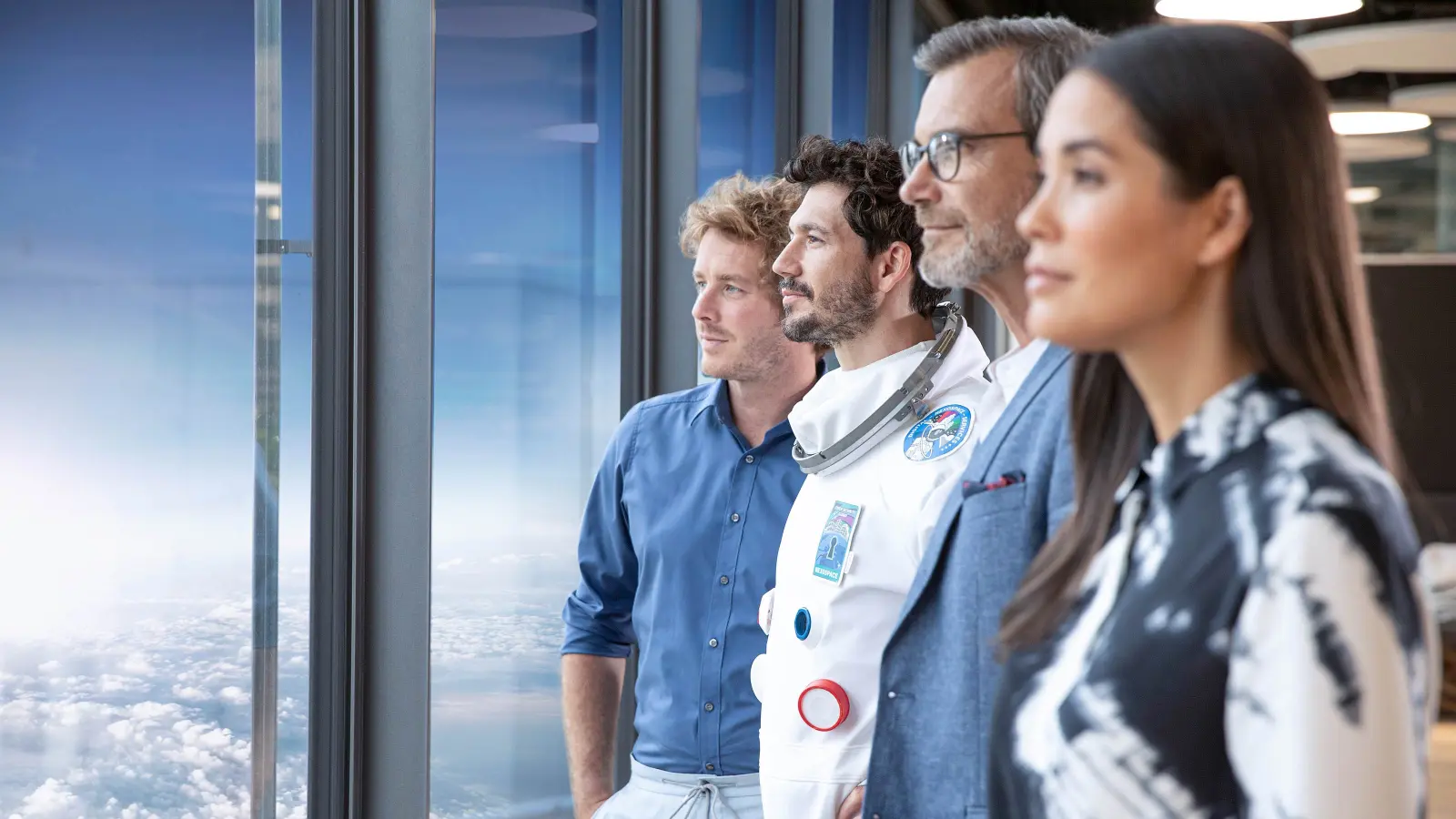 Application areas for digital facility management
NEXOSPACE creates added value in a wide range of application areas and services. We will be happy to advise you on how to address your everyday challenges in facility management.
Reducing your CO₂ footprint
Reduce your building's CO₂ emissions and energy consumption.
Smart data analysis and optimization
Improve overall building performance and increase your building's attractiveness using predictive models.
Predict maintenance issues before they occur based on smart data analysis of your equipment's status and performance.
Digitization of processes
Create a digital map of processes within your building and across multiple buildings.
Optimizing system technology
Gather and analyze the operating data of your systems and use this to increase efficiency.
Protection against cyberattack
Proactively track, identify, and combat cyber threats to protect your systems and data.
Live up to your responsibilities as an operator in a legally secure way (through professional documentation of testing and monitoring measures).
Why choose NEXOSPACE?
Our mission is to find the best solutions for our customers. There are many reasons why you can count on us.
Future-proof portfolio
The NEXOSPACE suite combines a highly stable, open platform, a growing number of IoT-supported solutions and intelligent algorithms.
Tailored to your needs
The services can be tailored to the specific requirements of your property. This simplifies integration, operation and maintenance.
Financially attractive
Flexible payment models such as pay-per-use help reduce upfront investment costs.
Reliability
Trust in the long-term stability and innovative strength of Bosch and rest assured that you are investing in high-quality technology and processes.
Longstanding experience
NEXOSPACE harnesses our decades of experience as an integrator and optimizer – both in our own plants and at customer sites.
Excellent know-how
We utilize our deep understanding of the market and our expertise in the areas of hardware and software to create added value for our customers.
Never miss any information about our digital facility management services.