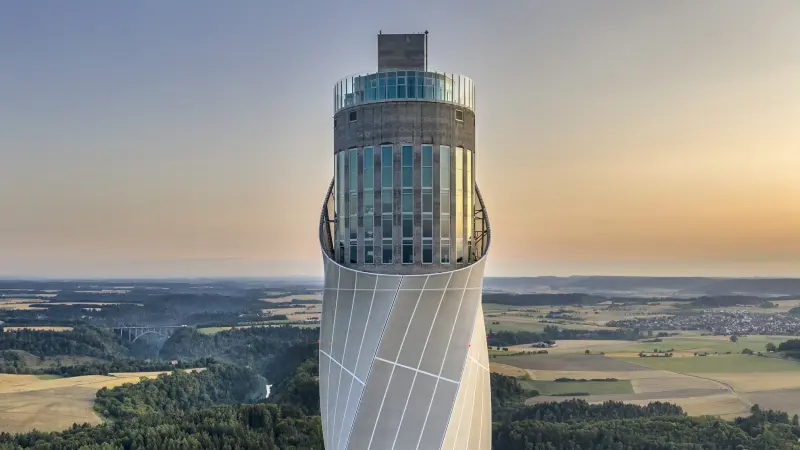 Six minutes and fifty-six seconds for 1 390 steps: every year, hundreds of runners make their way to the top of the TK Test Tower during the annual Tower Run – the course record is under seven minutes. The actual purpose of this imposing structure, owned by TK Elevator in Rottweil, is to test and certify elevator innovations that have the potential to significantly shorten development times for future skyscrapers throughout the world, as well as those already under construction.
And part of the tower right from the beginning: an intelligent building automation solution from Bosch. This system makes an important contribution to sustainable and efficient operation of the test tower – which is also the highest observation deck in Germany and a real tourist magnet. The visually imposing tower is 246 meters tall and has a diameter of 21 meters. It houses twelve elevator shafts in which, among other things, high-speed elevators are tested – ones that can reach top speeds of up to 18 meters per second. Some of the shafts extend almost the entire 200 meters up to the top of the tower; others stop at 120 meters. The adjacent space is used as energy storage for thermal exhaust air and features a control system that makes use of the air in a unique way. The exhaust heat is recycled by heat exchangers and made available to two heat pumps that are used to heat administrative buildings, events areas and the observation deck.
And by the way: The test tower is covered in a sheath made of fiberglass fabric, which reflects the light at different times of the year or different times of day. Depending on the weather and the time of day, the tower can adopt a completely different appearance.
We are bridge builders, custom tailors, pioneers and enablers
Digitalization and artificial intelligence are opening up new possibilities, offering more security, creating comfortable living environments and worlds of work, and making building management more efficient while producing fewer emissions. Their continued success requires one thing above all else: an exceptional team like ours at Bosch Energy and Building Solutions. Around 6 000 competent and motivated associates – from the junior talent to experienced professionals – develop, implement and manage state-of the-art building solutions, combining an excellent customer orientation and technological expertise with high level of enthusiasm.