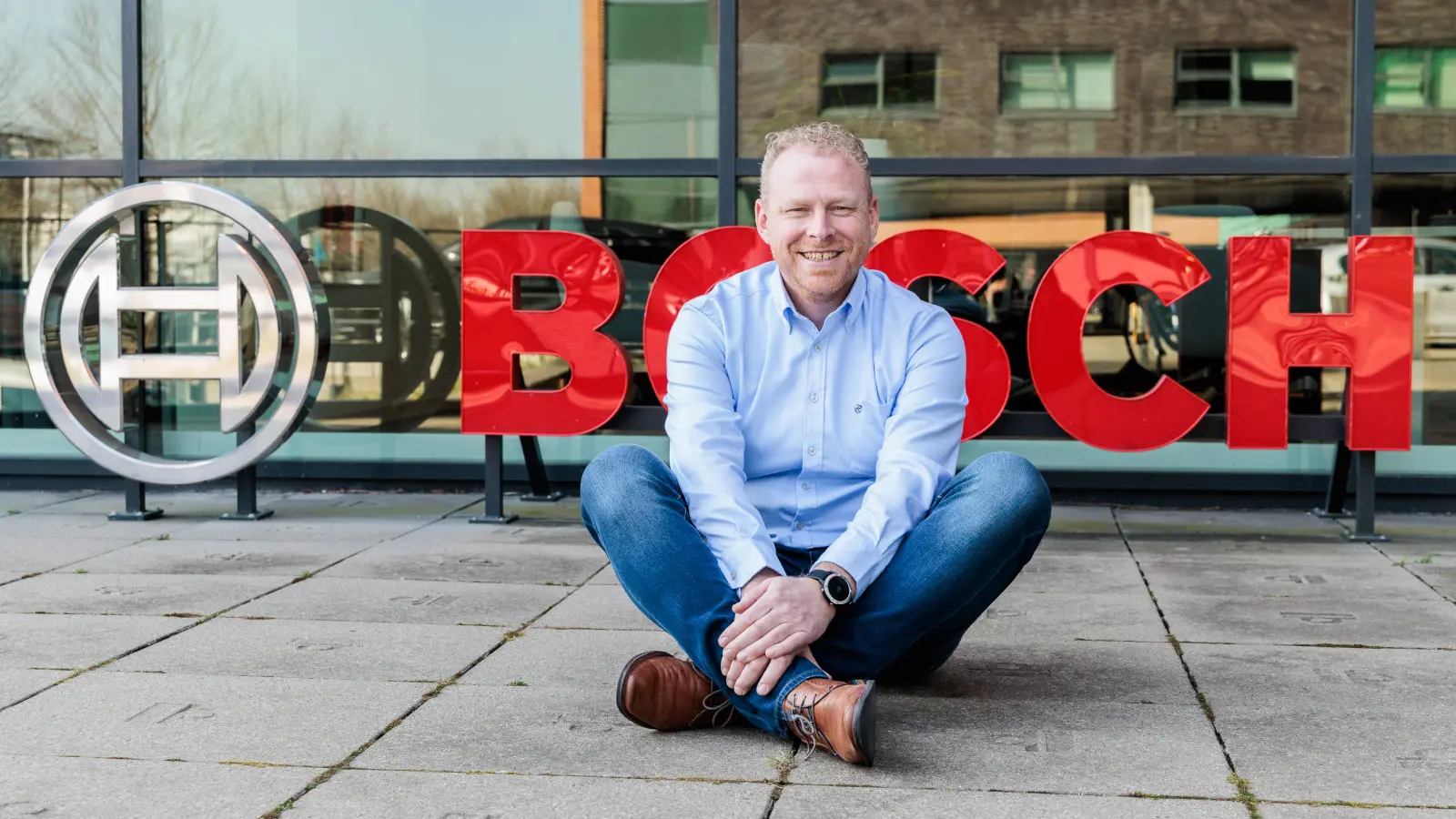 Solutions are also intelligent when they reliably guide customers through change processes. Bernard Gijzen, a solutions engineer at the Dutch branch of Bosch Energy and Building Solutions, helps give them this security
YouTube
Video cannot be shown without your consent
Solutions have to be future-capable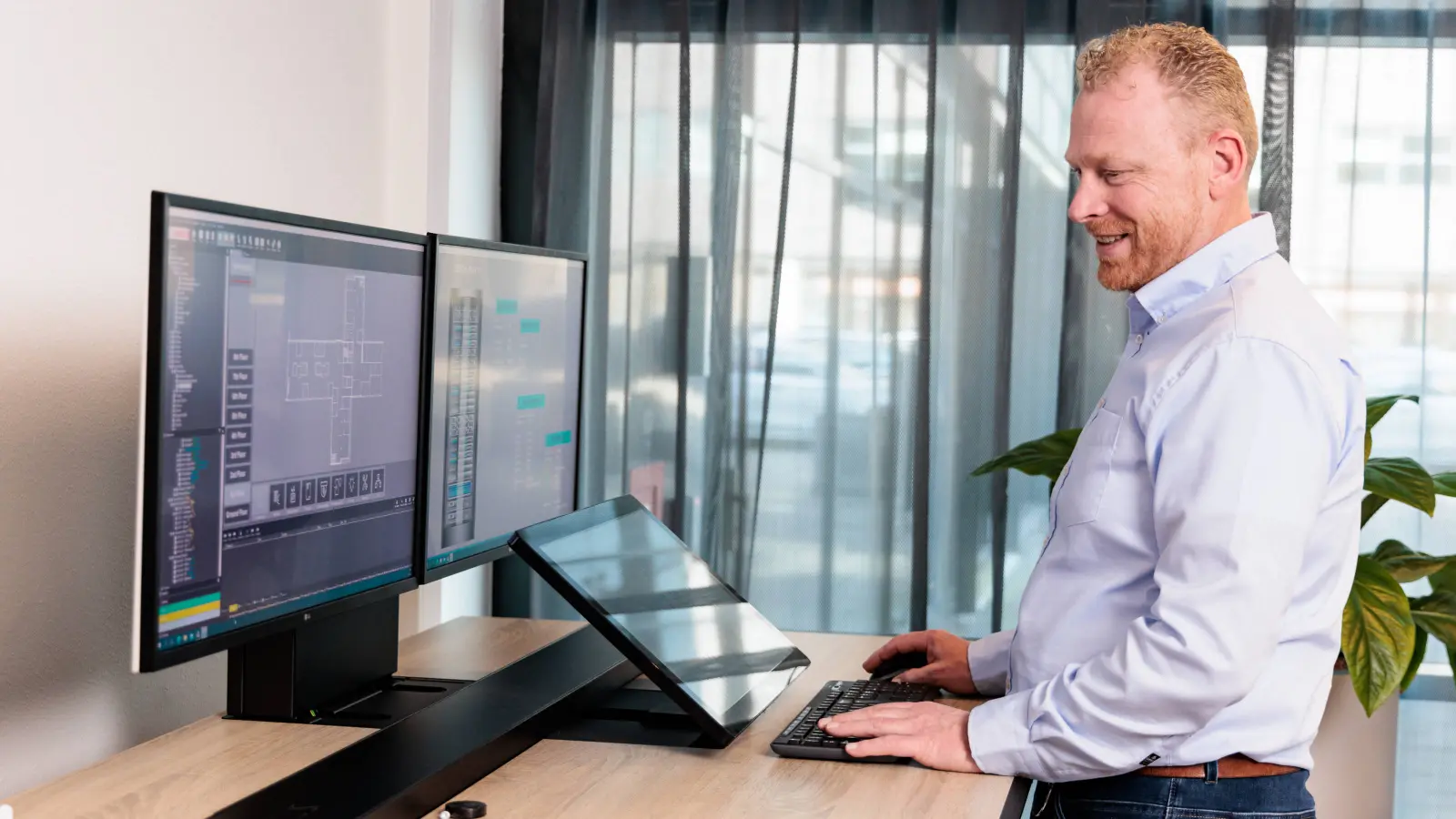 For Bernard Gijzen, a project has succeeded when it meets the customer's expectations and the implemented solutions can be counted on to continue working far into the future. His idea of success is when he helps someone make a decisive leap forward – whether it happens on the job or on a mountain bike trail during his time off. Then he beams, openly showing his joy. And why should he hide it? Being authentic and feeling and showing enthusiasm for what he does gives Bernard Gijzen energy.
Gijzen is a solutions engineer at Bosch Energy and Building Solutions in Nieuwegein. His job is to find the best possible technical solutions for his customers. After the system architects and sales team have come up with a vision for the future, the next step is to make it happen. To take this step, Bernard Gijzen needs to get to know the client. Several points are important: work processes, requirements and the customer's vision of the future. From this point of view, a technical solution is then developed and implemented together with the customer. Instead of selling a product, he comes up with a comprehensive solution that will let the customer move forward.
Together with his sales colleagues, he then draws up a technical plan and explains the technical feasibility with any special requirements. "Making sure that the customer benefits is very important to me. It's also the mindset that defines Bosch," he explains. "That's why I switched to the Bosch Group in 2020. I wanted to work for a company that delivers topnotch technology and always puts the customer first."
A sherpa on the trail of digital transformation
Gijzen sees himself as a builder of bridges. He partners with his customers and supports their digital transformation. "Over the next few years, most platforms will shift to the cloud. That's the trend. And it's why I acquaint companies with possible solutions, taking examples from everyday life to help them to visualize what I'm talking about. I draw comparisons with things they're familiar with. For example, the fact that people hardly use CDs or DVDs anymore; now they stream music or movies instead. This makes the cloud seem less abstract and reassures them that it works. In order for customers to follow us into the cloud, it's crucial for them to trust us."
In 2020, Bernard Gijzen moved to Energy and Building Solutions in Nieuwegein, the Netherlands, as a Solutions Engineer.

"I often exchange ideas with colleagues about the way they have solved certain problems. There is no one standard solution."

Holism in view: Customer solutions are also about the best idea of bringing systems together on a platform that works, is durable and, above all, reliable

The main task of solution engineering is to find out what customers really want or need
Part of the team from the word go
Listening to Bernard Gijzen talk this way, one gets the impression that he's been with Bosch forever. But he joined the company just two years ago, when practically all interactions with customers and coworkers had already gone digital. Getting to know them in the company cafeteria or in real-world meetings was no longer an option, so Gijzen did what is also his basic instinct in other situations: he took the initiative. "I got my company laptop, logged on from home, and started introducing myself to lots of colleagues. I told them about myself, described the fields that I'm most familiar with, what I think about new technological developments, and the trends I'm noticing," recalls Gijzen. "I wanted them to know that I'm part of the team." And it worked like a charm.
Bernard Gijzen is an outgoing person, but that isn't the only reason he attaches importance to getting to know the people he deals with. For him, it's key for the success of projects. "We develop solutions for our customers. But it isn't about the best hardware for security or building automation applications. Rather, it's about having the best ideas for merging systems on a platform that actually does what it's supposed to, is long-lived, and above all is reliable." For this to work, it's essential to know one another, build on the expertise of colleagues, communicate quickly and easily, and keep each other up to speed.
Standard solutions are a myth
"Customers often come to me with requirements that are actually more the symptoms of a problem than its actual causes," explains Gijzen. In solutions engineering, the core task is finding out what customers really want or need. This challenge brings out Gijzen's practical bent. He spent many years as a security systems technician and draws on his accumulated experience and know-how. "I always take a hard look at the situation on-site. I talk with customers to get to the bottom of what they actually need. It often turns out that they have a pretty specific idea of what they want. Then we take care of how." To accomplish this, Gijzen constantly searches for innovative possibilities that are a precise fit. "I read a lot, look around constantly for information on new solutions, bounce ideas off colleagues, and ask how they've resolved certain problems in the past. There's no such thing as a one-size-fits-all solution."
Gijzen naturally lives in a smart home
The father of three children, Gijzen also loves to test what's possible at home. And his home is "of course a smart home," including innovative safety and intrusion alarm systems that even the local police has seen to get an idea of what's possible in private homes. Gijzen likes to make the most out of everything, also where exercise is concerned. "I train children and adolescents on Enduro mountain bikes. That energizes me." The interviewer is tempted to ask about the point of riding mountain bikes in the flat Dutch landscape – but realizes that, if anyone can figure that out, it's Bernard Gijzen.