4 pillars for transparent, digital buildings
The key to meeting current challenges in connection with managing and operating buildings – which include climbing energy costs, new reporting requirements, and evolving work models – is to achieve greater transparency across the board. In order for systems to perform optimally, it's essential to analyze all of their processes in context in the particular buildings and rooms in each case.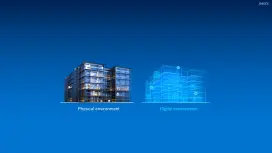 To achieve this degree of transparency, it's important to evaluate how various building systems interact in context and seamlessly monitor their performance. When data is evaluated in the right context, it yields ideal synergies of technology and people. Equipment runs better, energy consumption and costs diminish, and less maintenance is required. The bottom line is that users enjoy comfortable, sustainable workplaces and operators smooth, problem-free processes.
4 pillars: the digital basis for greater transparency
To shed light on buildings and all of their processes, it's vital for them to be digitalized.
A digital building essentially consists of 4 pillars that in turn comprise 11 different building blocks.
YouTube
Video cannot be shown without your consent
What is the digital foundation of a connected, integrated and intelligent building? Vice President, CTO and Chief Architect Andreas Mauer takes us on a journey on what is required to make commercial buildings more comfortable, efficient and sustainable. Bosch Connected World, November 2022.
NEXOSPACE: The digital foundation for transparent buildings
NEXOSPACE is the digital foundation for digitalized, transparent buildings. NEXO stands for connection, while SPACE describes the areas in and around different types of buildings. NEXOSPACE is a suite of intelligent, networked, and integrated digital IoT services that provide an overview and enable control of a building's technical systems.
Current challenges: Covid-19, costs, ESG
Many market drivers are currently calling for and promoting the digitalization of buildings. The Covid-19 pandemic has spawned new ways of working together and changed the degree to which office buildings are actually used. Owners of large office facilities are facing the challenge of either flexibly organizing how space is used or reducing it.
Another important factor that is now encouraging investments to digitalize office buildings is the fact that erratic use incurs greater energy and operating costs. In many cases, a lack of transparency regarding the actually required amounts of heat, lighting, electric power and other relevant systems results in unnecessary expenditures for energy. In a worst-case scenario, this can lead to heated, brightly lit office floors where no one actually works.
Besides occupancy and actual requirements, another key to operating buildings efficiently is awareness of how systems degrade. Over the course of time, all office systems are subject to wear and tear. This diminishes their efficiency, affecting everything from sensors across actuators, controllers, and building automation units all the way to video monitoring and access control systems. Even if they were thoroughly and intelligently planned at the outset, regular checks and adjustments are vital for ensuring that they continue to run efficiently over the long term.
Last but not least, the ESG criteria have given rise to new reporting obligations for achieving sustainability targets in the European Union and elsewhere. Here too, there are calls for greater transparency of energy consumption and possibilities for improving the situation.