As a lead factory for close to two dozen others worldwide, the Bosch facility in Bamberg serves as a model for them in many respects. It also steadily sets new standards. The latest example: energy-efficient production.
With floor space of 235,000 square meters divided into five sections and around 7,700 employees (including 300 trainees), the factory in Bamberg in the north of the German state of Bavaria is the Bosch Group's second-largest after the one in the Stuttgart borough of Feuerbach.
It also serves as the model for the production of automotive components in other countries: employees in Bamberg coordinate and develop production processes for 21 other plants around the world. They also support them throughout the value chain comprising in-house development, production, sales and, last but not least, customer services.
Bosch Plant Bamberg, Germany
Lead factory for 21 others in 12 countries
16.5 MW of cooling output
Why was a new cooling system needed at the Bamberg facility?
Hundreds of thousands of precision components, including spark plugs, sensors, high-pressure injection valves and common rail injectors, are produced there daily and a great deal of energy is consumed in the process. Too much, Bosch concluded. The company therefore launched a project to modernize the cooling system and to enable a more energy-efficient production.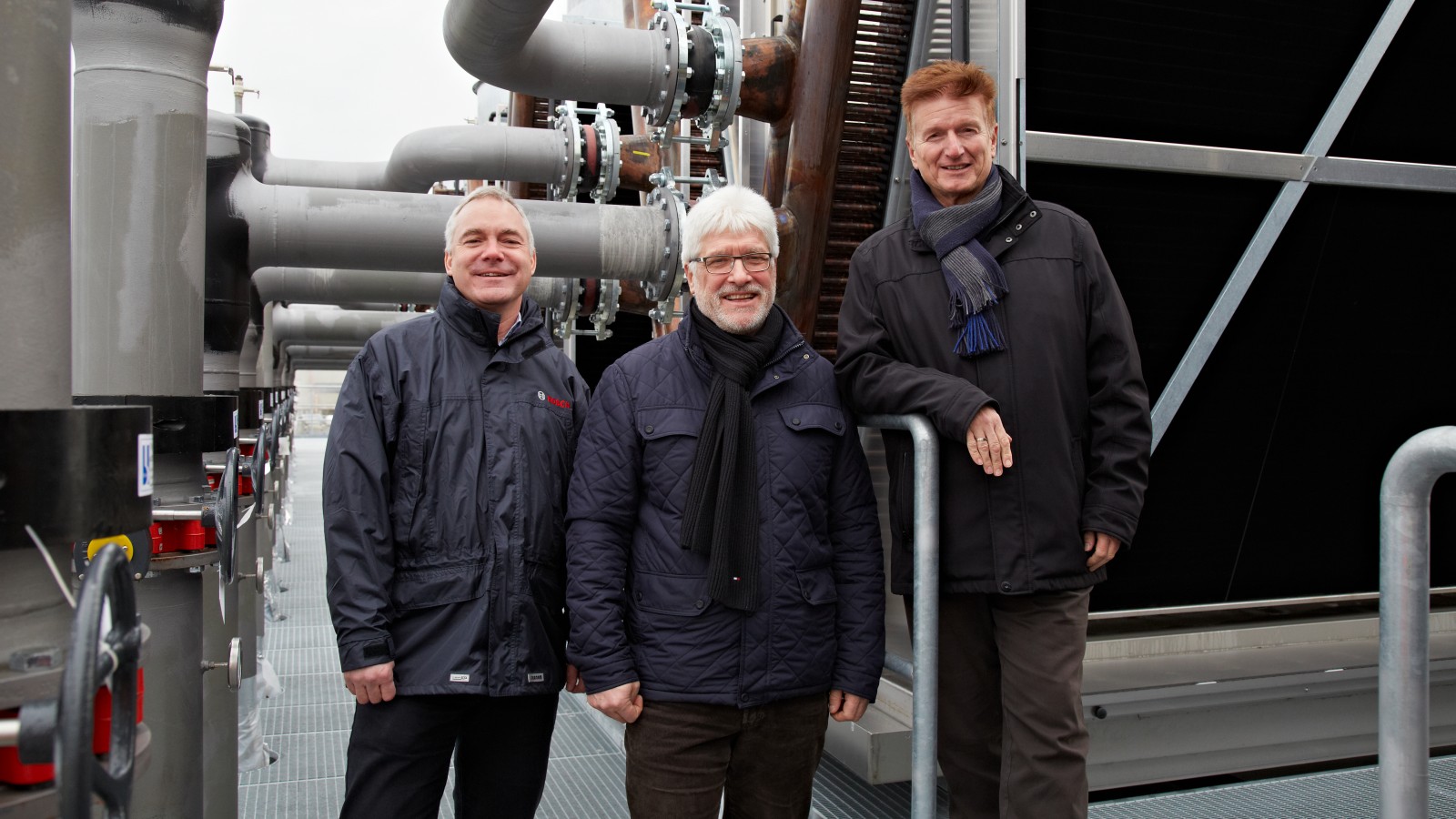 Employees of Bosch Energy and Building Solutions contributed their expertise to design, plan and implement an integrated solution from one source at the Bamberg facility.
The resulting efficient, forward-looking cooling system with total output of 16.5 megawatts reduces energy consumption by four gigawatt hours a year when the factory is working at full capacity.
Interview with Joachim Schlüter, Head of Facility Management
The Bamberg factory continues to set new standards in terms of organization, management and production. What was the reason for this latest project?
In addition to ensuring our energy supply, we wanted to sustainably reduce our consumption of resources.
What role does energy efficiency play at the Bamberg site?
When we reduce our production costs, it helps us stay competitive internationally. It also contributes to achieving the targets set by the Bosch Group, such as lowering CO₂ emissions by 35% by 2020.
What was it like to work with your colleagues from Energy and Building Solutions?
Our collaboration was great, and it didn't take us long to plan, obtain funding for and implement the project.
You'll be using Energy Platform for energy management. What do you expect to achieve with it?
It's an intelligent system for monitoring energy consumption that allows us to manage our facilities much better and more energy-efficiently. It gives us a detailed overview of output and consumption data for the individual units of the central cooling plant, which lets us quickly pinpoint problems and take steps to increase energy efficiency. Now we can even ensure optimal cooling during heat waves.
Highly efficient into the future
The New Cooling System
Before the modernization project, the Bamberg factory had multiple disconnected cooling systems. The new solution developed by the experts of Bosch Energy and Building Solutions has a single cooling plant with five chillers, while also taking advantage of natural cooling to dissipate heat. Cooling capacity is distributed from there.
Optimally monitored
In addition to highly efficient plant engineering, regulating components also play an important role in the context of the overall cooling system.
The Energy Platform by Bosch permits rapid evaluation of operational parameters to quickly identify and remedy any problems or malfunctions.
Impressive results of a successful partnership
Annual power savings of about four GWh
Environmentally friendly: 2,300 tonnes of CO2 emissions prevented each year
Reduced work for maintenance and repairs
Everything from one source
The Bosch Bamberg plant received extensive support in the analysis, design, planning and construction of its new cooling center by the energy experts from Bosch Energy and Building Solutions.
Working together for Green Buildings
Find out how our smart solutions and customized services are promoting sustainable buildings, climate neutrality, and environmental awareness.
More than 60 regional offices and 4,000 associates worldwide. Find our experts near you.
Go to one of our local websites to learn more. Please choose your country: